How Ductless HVAC Systems Can Offer Solutions for Property Managers

5

min read
Reading Time:
5
minutes
Your residents should always have access to reliable heating and cooling when they need it most. If you are dealing with outdated electrical HVAC infrastructure in your units, or if your residents frequently report high energy bills and/or ineffective heating or cooling, it's time to look into potential solutions.
For older properties, or for ones that lack ductwork, Ductless Systems are an excellent alternative to conventional HVAC systems. These compact units are affordable, easy to install and offer integrated heating and cooling solutions.
Keep reading to learn more about these systems and how one co-op's ductless HVAC upgrade helped them solve a major heating and cooling issue.
What Are Ductless HVAC Systems and How Do They Work?
Ductless HVAC systems, or ductless mini-split systems, condition the air for both heating and cooling directly within a living space. Because these systems do not need ductwork and mount easily on walls or ceilings, they are a viable solution in spaces that are difficult to heat and cool or where central air is not an option.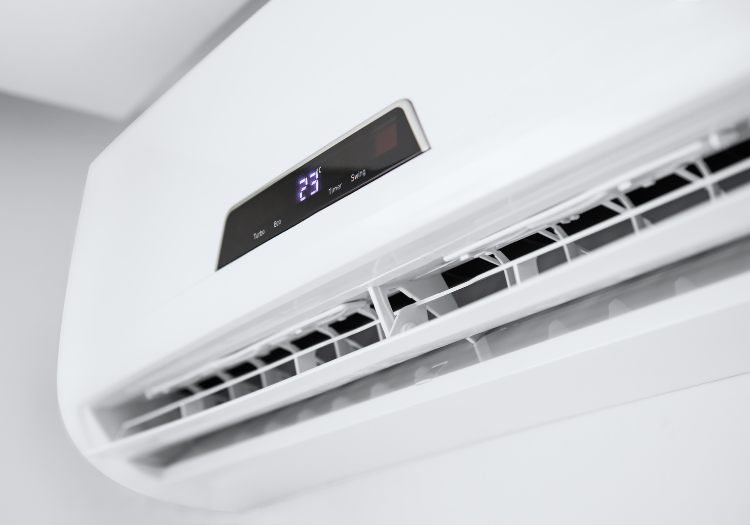 Here is how they work:
The system consists of an outdoor unit called a condenser and one or more indoor heads that hold the evaporator and a fan to move the indoor air. These indoor units are mounted to the interior wall or ceiling.
A condensate drain, refrigerant tubing and power cable run between the condenser and the indoor head(s) via a small hole in the exterior wall.
The condenser provides heating or cooling to the indoor unit which heats or cools the indoor air.
In the summer months, the evaporator coils absorb heat from indoors and transfer it outside.
During the winter months, the heat pump function extracts the heat from the outdoor air and transfers it inside.
It's important to note that, while the heat pump function will deliver effective heating in most seasons, the functionality could diminish in situations where the outdoor air reaches very low temperatures.
Learn More About HVAC Systems from Reliance, Including Ductless! >>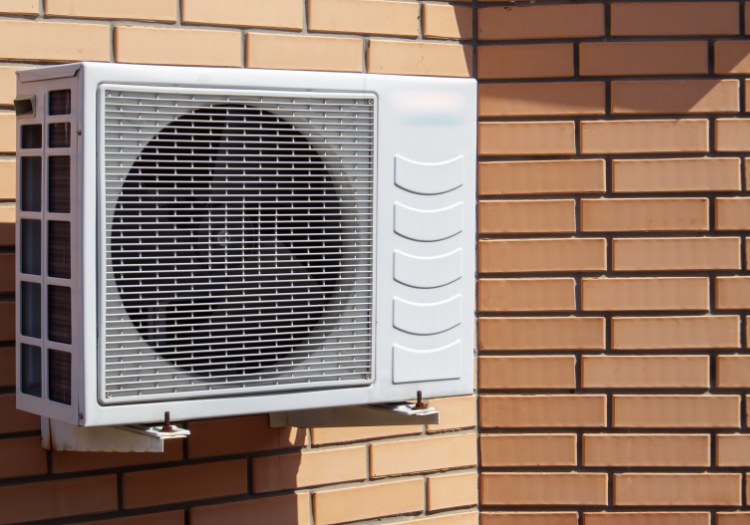 What are the Benefits of Ductless HVAC?
The Installation Process: Flexibility of location and installation make ductless splits an ideal solution to common heating and cooling challenges. Ductless installations are also generally cheaper and less invasive than installing central air systems in locations without existing ductwork.
One Outdoor Unit Supplies Multiple Indoor Units: Room-by-room temperature control is easy with ductless splits.
Sleek, Compact Design: The interior units mount easily on walls or ceilings and take up no floor space. Their sleek designs also blend seamlessly into small spaces.
Quiet Operation: Ductless systems typically operate quietly without disruptive noise.
Case Study: A Brantford Co-operative's Ductless HVAC Upgrade With RelianceTM
After detecting a heating and cooling issue with their existing electric baseboard equipment, the Property Management team at a Brantford co-operative reached out to Reliance to discuss upgrading to a ductless system.
Within the first year of installation, their energy bills were cut in half.
Following the installation of ductless units in the office, the Property Manager immediately felt the benefits of the new system. This allowed the members to experience the benefits of the system, leading to Reliance offering ductless units to members of the co-op for their own units.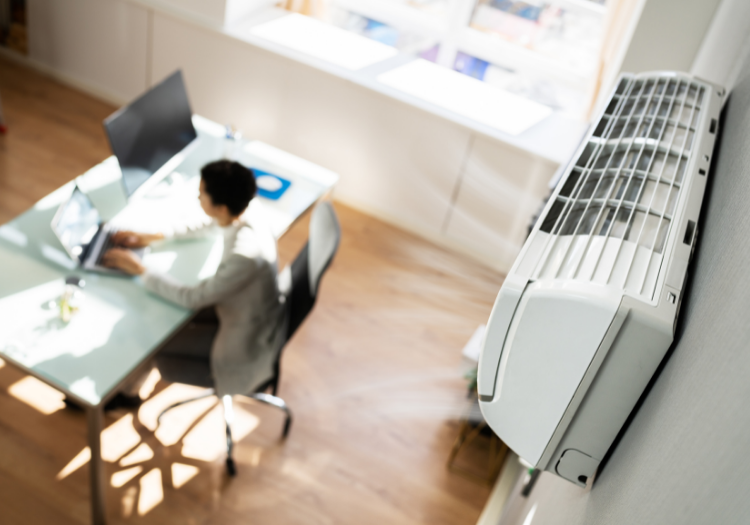 The largest benefit was the option to rent the equipment from Reliance, as purchasing outright was not financially viable. For the Property Manager, it's reassuring to know that any service or billing issues can be addressed with a phone call to their Reliance Account Manager. The members can also directly call Reliance 24/7/365 to have their service needs met in a safe, timely manner.
The Brantford co-operative Property Manager recommends a ductless HVAC system for anyone with electric heat, but especially for other co-ops and non-profits that are looking for affordable, energy-efficient solutions.
Key Questions to Ask When Converting From Electric Baseboard Heating to Ductless
​​Interested in switching from your baseboard heating to a ductless split system? Here is typically how the process works with Reliance:
1. What is the Process for Converting Electric Baseboard Heat to Ductless?
Several steps make up this process:
First, a pre-inspection determines the scope of the project, as well as the locations for the indoor evaporator units and outdoor condenser units.
We will then inspect your electrical panel to ensure that space is available.
Next, we will discuss and confirm the placement of the interior evaporator units with you. Generally, two interior heads are installed based on the size of the units.
We will then discuss the placement and location of the line sets.
In most cases, contractors are then brought in to complete the installation due to the complexity of work involved.
2. What Types of Products Are Available?
We supply a range of ductless systems from different manufacturers. Speak to a Reliance representative today to learn more about the options available to you!
3. Are There Rebates or Incentives Available for These Installations?
Property Managers have the chance to become eligible for rebates and incentives. Learn more here!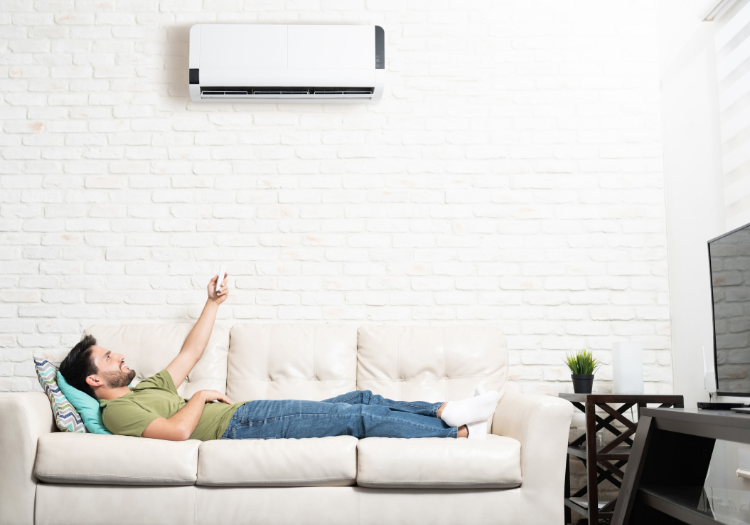 Reliance Helps Property Managers Find Affordable Equipment Rental Solutions
The Reliance Property Management Program is designed to provide property managers with best-in-class installation and equipment solutions. It's our goal to help you free up useful capital, establish cost certainty, reduce risk and secure high-end rental equipment for your residents.
When you rent your equipment with Reliance, you can:
Control Operational Costs: By outsourcing your HVAC needs, you can control operating costs, free up internal resources to focus on core business issues and re-invest capital into high-value areas.
Count on One Number to Call: Regardless of the services you need — electrical, plumbing, mechanical equipment or otherwise — we offer dedicated, live telephone support 24/7/365.
Rely On Qualified Technicians: We work with hundreds of fully-licensed technicians and installers who provide top-rated, guaranteed service when you need it.
Participate in The Buyback Program: Exclusive to Reliance, the Buyback Program is a way for property managers who currently own their water heater or HVAC system to have Reliance purchase and maintain their equipment. They can then reinvest this capital wherever they see fit.
Finally, you can rest easy knowing your residents' equipment is backed by an industry leader with over 60 years of experience.
LEARN MORE ABOUT THE RELIANCE PROPERTY MANAGEMENT PROGRAM HERE >>