The Road Ahead for the Hard-Hit Hospitality Sector

5

min read
Reading Time:
4
minutes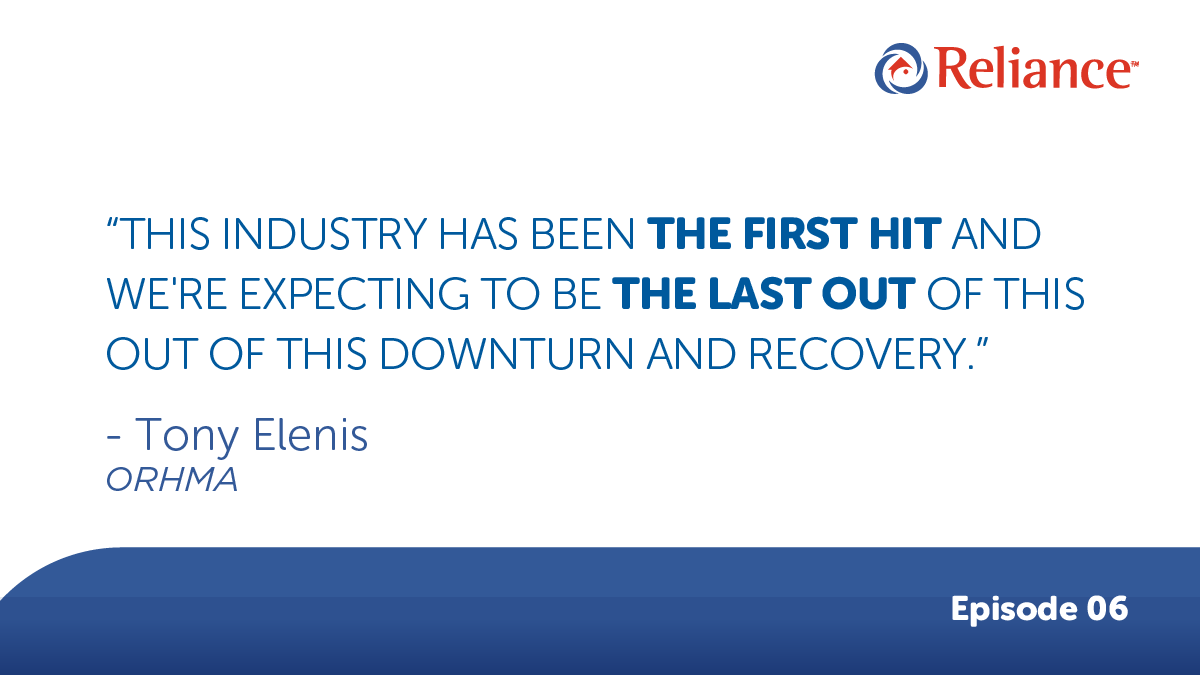 It's no secret COVID-19 hit hospitality first and hardest.
The road to recovery is going to be hard.
But getting through it just takes creativity, innovation and resourcefulness…
Luckily, the very things the sector has in droves.
In this episode, we sit down with Tony Elenis, President & CEO at Ontario Restaurant Hotel and Motel Association (ORHMA), to talk about what the path to recovery will look like for the beleaguered hospitality industry.
Tony discusses:
Setting realistic expectations for recovery from COVID-19
How adaptability and technology are shaping the road ahead
The 3 things that make working in the hospitality industry so great
Check out these resources we mentioned during the podcast:
https://dinesafe.ca/
telenis@orhma.com
A painful road to recovery
COVID-19 proved to be one of the biggest challenges the hospitality industry has ever faced.
And few, if any other industries are feeling the effects as strongly.
"This industry has been the first hit and we're expecting to be the last out of this out of this downturn and recovery." — Tony Elenis
That's why Tony says everyone in the sector needs to be realistic about the challenges they are facing.
Several elements have conspired to set hospitality back more than any other sector.
First, the obvious: the industry relies on in-person interaction to a much higher degree than others. Social distancing and lockdowns shut down the hospitality industry before any other.
They also operate on very narrow margins, which means any disruption — let alone something as catastrophic as the pandemic — will cause major issues with profitability. The industry relies on volume, but the once steady stream of guests and visitors has slowed to a crawl.
Then there is the fact that, this far into the pandemic, the bills are coming due for loans and deferments from the outset of the crisis, despite a lack of meaningful progress over the past few months.
There is a huge burden on the industry, but Tony is hopeful that the resourcefulness and ingenuity of the people who make their living serving others will see them through it.
A path forward
Tony isn't sanguine about the difficulty of recovery, however. In many ways, he sees it as more of a challenge than the past few months have been.
But the industry and its operators are savvy. They will take advantage of every strategy they can to weather this storm.
And Tony thinks focusing on one competency, in particular, is paramount: adaptability.
"Competencies drive results. And the competency that everyone needs to focus on is adaptability." — Tony Elenis
Adaptability is the competency every industry is struggling with right now, but Tony has some tips for how those of you in hospitality should learn to adapt:
1. Lower expectations with your margins.
Focusing too hard on generating new profits may cause you to lose sight of the bigger picture: Survival. Sustainability should be first and foremost in everyone's minds right now.
You need to create trust with the consumer. Show them you value their health and safety.
Spend some money on improving sanitation and invest in technology, like remote menus customers can use on their smartphones.
Technology was the way forward even before this pandemic, but the importance of successfully leveraging technology has gone into overdrive.
2. Put employees first.
Your employees are your number one asset when it comes to managing operations and they should be your first priority.
You need to protect their health and safety. It's not just the right thing to do for those you employ — it will also foster greater trust with the consumer.
3. Look at your costs.
Since the moment we are in is all about surviving and waiting out the storm, finding areas you can cut costs is vital.
For fixed costs, this might mean renegotiating with suppliers or eliminating a product.
For variable costs that could include creatively shifting some of your capital expenses to operating costs, like taking advantage of services like Reliance Home Comfort to save money on equipment so you can be better prepared for the future.
An industry worth saving
Tony's passion for the industry is palpable.
While attending school for electrical engineering, he fell in love with the sector from his first job carrying luggage. He's spent the entirety of the 30 years since in the industry.
"I fell in love with food and beverage — the knowledge and history of food and wine. There's so much to learn that you never end up learning everything." — Tony Elenis
Tony says he owes everything he knows to the hospitality industry.
So, it's no surprise that Tony thinks it's an industry worth saving.
For him, there are 3 things that make it a field like no other:
It's people-oriented. The ability to learn from so many different guests and give them a great experience is unparalleled in other sectors.
There is so much creativity involved in making people happy. And there is so much to learn in doing so — Tony's favorite being the food and wine.
It's fun.
That last one may be the most important.
No other sector is so committed to bringing joy into people's lives…
And with the way 2020 has gone, we could probably all use a little more joy.
This post is based on a Business Optimization podcast with Pat Daniels. The views, information, or opinions expressed during the podcast series are solely those of the individuals involved and do not necessarily represent those of Reliance Home Comfort and its team members.
To hear this episode, and many more like it, you can subscribe to Business Optimization here. If you don't use Apple, you can find us here.